Big Cheers to You – for supporting the Pushing The Edge Podcast
Audience reviews are critical to PODCASTS being seen as credible, and building an audience.  And on that front, ITUNES is critical.
The more reviews the greater prominence afforded the podcast. That means more educators will find out about Pushing The Edge.
Even if you're not with Apple – I'd still encourage you to write a Review – because ITUNES is so important.

You'll just need to create an ID but no purchase is necessary.  
ANDROID AND WINDOWS
To subscribe on an Android or Windows device – go here.  
Here you'll find the RSS Feed for this podcast + Podcast Apps which enable you to listen to Pushing The Edge. You will be able to SUBSCRIBE within these podcast apps. 
Please write a review for the show in these other forums. And let me know if you do. 
ITUNES – How to Subscribe and Write a Review  
 1. Go To ITUNES and SEARCH for "Pushing The Edge" 

 2. Look Under PODCASTS for Pushing The Edge with Greg Curran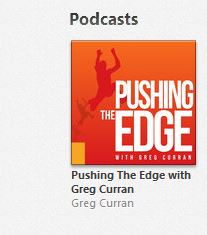 3. Click on SUBSCRIBE – so that you keep up to date with the latest episodes.
4. Click on RATINGS AND REVIEW 

5. Click on WRITE A REVIEW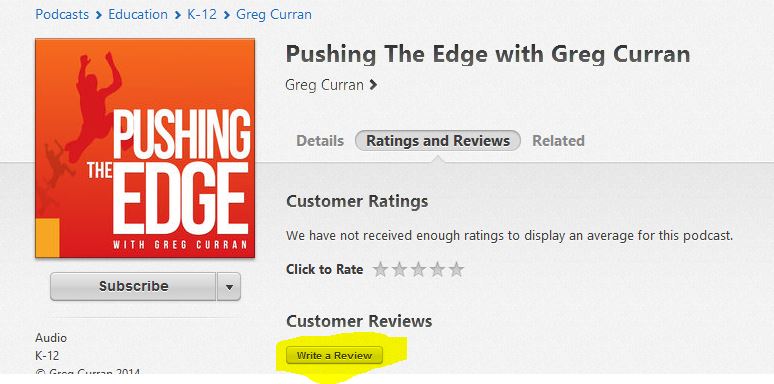 6. You need an Apple ID to Write a Review
Sign in with your Apple ID and PASSWORD. Then click SIGN IN
If you don't have an Apple ID, Create one. You aren't required to purchase anything.  

  7. Write your Review 
Title – A Heading for your Review
Click to Rate the Show
Review – Write your review here. Tell everyone what resonated for you and why they should definitely listen to Pushing The Edge.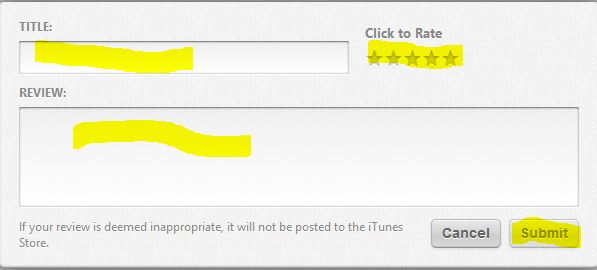 IF YOU'RE TIME POOR  – Just Rate the Show (CLICK TO RATE)
8. A JUST IN CASE STEP – Make a copy of your review as ITUNES will not confirm your review.
9. Click SUBMIT
NOTE: Your review has to be approved by ITUNES so it won't appear straight away.
It will take a few days till you see it.
 9. BIG YAHOO to you. Thank you so, so much for supporting Pushing The Edge.
10 Give me a shout-out so I know how awesome you are and also so I hot foot it over to read your review.