[vc_row][vc_column][vc_column_text]
[/vc_column_text][/vc_column][/vc_row][vc_row][vc_column][vc_posts_slider type="flexslider_slide" count="20″ interval="3″ slides_content="teaser" thumb_size="800×400″ posttypes="post,page" categories="self-empowerment"][/vc_column][/vc_row][vc_row][vc_column][vc_column_text] 
 EMPOWERING BLOG-POSTS
As teachers we can often undersell ourselves, thinking we've got little to offer others. How might we get more confident in our voice? Here's some Tips.
Put yourself first. It almost seems scandalous to say it – to teachers. But lately I've been wondering about the costs of always putting our students first.
The following two articles were inspired by negativity. I was looking for ways to challenge or banish the negativity that surrounded me. Both provide ready-to-use strategies that have proven pretty successful for me.
Sometimes we get a little lost, we can lose our mojo, and wonder where to next? This article was inspired by the time I spent in quite a deep funk. It's about looking back to our creative times. For in these times there's clues that can help us in the present.
 A funny moment in the kitchen had me thinking about the Words, Situations, and Places that always get us smiling or laughing.
Risk of varying dimensions has been a regular companion in my teaching career. A couple of stormy moments, weather-wise, gave me pause to think about everyday risks.
Sometimes we're full of passion and positivity and hit up against the negativity or apathy of others. Here's some tips to stay true to you – in this trying situation. 
EMPOWERING PODCAST EPISODES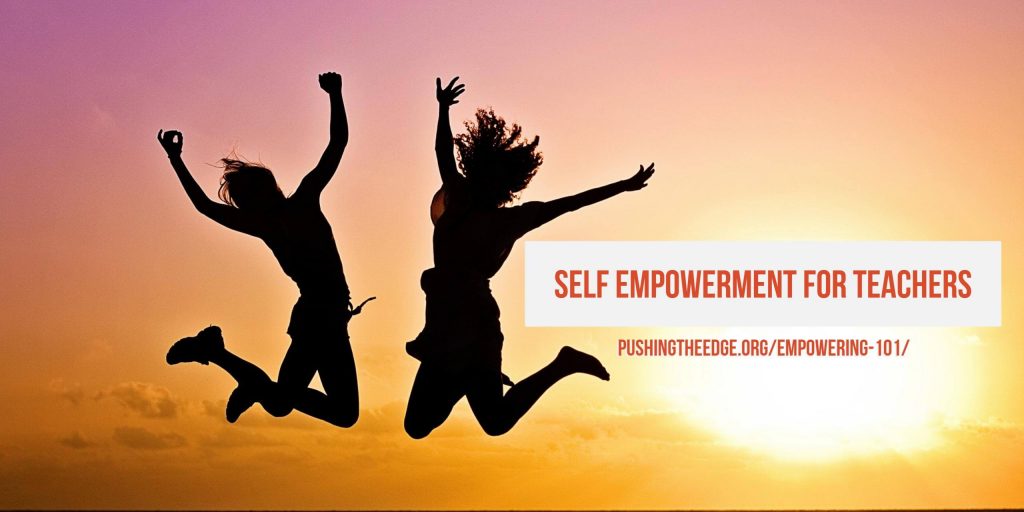 PTE001: Taking Care of You with Jason Borton
In this episode,  I chat with Jason Borton, an Australian principal who questions everyday taken for granted practices within education. 
Among the topics Jason and I canvas: How to take care of you in an occupation where we always seem to be ON and taking on more and more and more. 
Jason has some pretty compelling suggestions for our well-being.
PTE006: How to get from Survive to Thrive Mode 
Do an internet search and one word dominates for teachers – survival.
In this episode, we turn the tables, sharing our top tips and strategies to thrive
PTE007: Find Your Voice and Really Connect Online with Jenny Moes 
How do you find your voice – when there's so many aspects that make us who we are?
Listen to Jenny Moes' incredibly rich and moving tale
PTE009: Find Your Communities: It Helps to be Vulnerable with Ashley Gravelle
You're just starting teaching or maybe taking on a brand new role.
How do you find Your Way – Your Voice and Your Communities?
Ashley Gravelle, an early career teacher, has some top tips and insights to share. 
EMPOWERING BOOKS 
This section is filled with books that have inspired me – they've provided the tools, the insights, and that firm nudge forward so I can be my most passionate, energised self.  
Die Empty  AND  The Accidental Creative – Todd Henry 
I was first introduced to Todd Henry via his podcast Accidental Creative. Short, sharp and to the point. That's what kept me coming back for more. When we're all so pressed for time, what's not to like about brevity and bite-sized nuggets. 
Todd's  focus is the world of Creatives. And there's plenty of Creatives in education right? His books are easy to read. They're packed with incisive insights and ready to use strategies that address the key issues facing us as creatives. 
 Todd asks what's the most valuable piece of land in the world?  Here's a clue, his answer underpins the premise for Die Empty. Here's what I found useful in Die Empty:  
How to define your 'Through line' – that 'thing' that gets you bouncing out of bed in the morning, that thing that you stand up for, argue for, and go to battle for. Todd's work here has influenced Justine Musk who writes gritty articles around passion. 
How to defy mediocrity and stagnation (Yep we've been there right)
Steps to push back the walls of your comfort zone. Scary yes, but oh so vital for us as passionate, creative teachers. Todd has some practical steps here.
Finding your Voice. This section is definitely worth a read as it's everyday actions that will have you more in tune with your voice. 
 Creative Assassins. What are those obstacles, mindsets…that get in the way of making our creative ideas a reality? How can we counter them?
Focus: As teachers we're constantly flicking, moving from one task to another, working with the maze of classroom issues, attending to the needs of so many. Todd shows us how to cut through and get more focus.
Energy: It's something that we're all looking for, right? Being constantly on the go, how can we keep ourselves fueled? How can we nourish and replenish our energy stocks?  
Go Put Your Strengths to Work – Marcus Buckingham  
This book really impacted on me – when I was wondering how to make my work-life more satisfying – more passionate.  When I was wondering what direction to take next. Since that time, I've come back to it again and again – not only for myself but in my work with students training to be teachers. 
Linked to the Strengths-based movement, it encourages us to devote more of our working lives to tapping into  our Strengths.  Surely that's a no-brainer I hear you say. However,  Buckingham claims that most people rarely use their full suite of strengths at work. 
This book helps you identify your strengths, provides strategies for tapping into them more often, and shows how to reduce those tasks that  you're 'not that into' or 'not that good at'. There's  also a section on how to utilise a strength-based approach with your team.  
The Flinch – Julien Smith
This book cuts right to the chase – that moment when you pull away – that moment when you're just about to….and then put it off, that moment when….. you FLINCH. 
It does challenge. It does provoke. It is unsettling and that's why I find it so, so useful. If you're looking for motivation, if you need a really good nudge – then this is a good place to start. 
Flourish – Martin Seligman
Martin Seligman was first made known to me in my Counselling Training. Situated within the field of positive psychology and linked to the Strengths-based movement, this book is devoted to Happiness and Well-being.  The aspects I find most useful are:
 Explanations of the  origins and underpinnings of positive psychology. Written in an easy to understand manner.
The notion of FLOW.  I now regularly pay attention to the moments when I'm 'in flow' since there's much I can learn about me, my passions and strengths in such moments. Get an introduction to Flow through this book. 
School-based examples. Flourish shows how a number of schools are living and teaching well-being – via Strength-based approaches. 
Supercoach – Michael Neill 
Looking to work on your self-talk, you know the negative chatter. Here's a good place to start. Michael's pretty direct and provocative but that's what I really appreciate. The following aspects resonated for me: 
The challenging exercises at the end of each chapter. They're step by step, with examples to assist.
The Complaint Fast. This exercise really resonated when I was finding myself drowning in negativity at work. I wrote about it here. 
The Self-Improvement Vacation: Here's an antidote to the constant push to self-improve.
The discussions about how what we think impacts on our experiences.
The critique of goal-setting. 
The focus on doing more of what you love. It's all about Passion here – gotta love that.
[/vc_column_text][/vc_column][/vc_row]